Sensai Cellular Performance Brightening Make-Up Base
Baza rozświetlająca SPF 15 30ml
Base Lumiere du Teint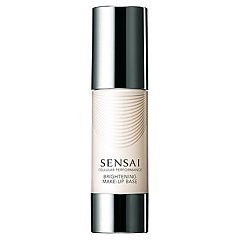 Cena Dolce.pl
227 zł
7,57 zł/ml
Dostępny. Wysyłka w 2 - 8 dni roboczych *
Sensai Cellular Performance Brightening Make-Up Base - rozświetlająca baza pod makijaż, która błyskawicznie wygładza, wyrównuje koloryt cery oraz minimalizuje widoczność niedoskonałości. Posiada filtr przeciwsłoneczny SPF 15. Zapewnia odpowiedni poziom nawilżenia.

EAN/UPC: 4973167930236
Kod producenta: 93023
Termin wysyłki liczony jest od chwili potwierdzenia zamówienia w przypadku zamówień pobraniowych. W przypadku zamówień opłacanych przelewem lub kartą, termin realizacji liczony jest od zaksięgowania wpłaty. W wyjątkowych sytuacjach czas realizacji może ulec wydłużeniu.
Zdjęcia produktów prosimy traktować jako poglądowe. Mogą występować rozbieżności, np. ze względu na różnice pojemności czy modyfikacje produktu przez producenta.
Wybory użytkowników
Chcę mieć
Uwielbiam
Twoja opinia
Wygraj bon Dolce.pl o wartości 100 zł!

Co miesiąc losowanie kolejnej nagrody. Zapoznaj się z warunkami!

Baw się i pisz, co myślisz!

Opinie pomagają konsumentom, ułatwiając wybór dobrego produktu. Ważne są też opinie krytyczne, bo dzięki którym unikniemy kupna bubla.
Opinie o Sensai Cellular Performance Brightening Make-Up Base

Kati
Baza rewelacyjnie rozświetla cerę, jednak moim zdaniem absolutnie nie przedłuża trwałości makijażu. Uważam, że jest to kosmetyk dla osób posiadających cerę suchą.
Jak zwykle perfumeria Dolce.pl wywiązała się w 100 procentach. Polecam zakupy.

Barbara R.
Wiem, wiem jest trochę drogi, ale jeśli użyjesz raz chcesz go zatrzymać na zawsze. Całkowicie wart swojej ceny! Będzie podkładem bardzo przydatnym również dla pań, które mają delikatne włoski na skórze twarzy. Gdy inne podkłady otulają baaardzo nieestetycznie każdy włosek, ten podkład tego mnie robi. Jest treściwy, ale daje bardzo naturalny wygląd, skóra jest gładka i sprawia, że wyglądam świeżo i naturalnie nawet po całym dniu pracy. Zatem drogie panie POLECAM : ) Ja używam łącznie z Kanebo Sensai Cellular Performance Brightening Make-Up Base i moja skóra wygląda zdaniem koleżanek "jak milion dolarów". Baza ta delikatnie rozświetla, powoduje piękną grę światła na twarzy. Naprawdę wyrównuje odcień skóry. A perfumeria DOLCE, no cóż jak zwykle IDEALNA.

Magdalena N.
Rewelacyjna baza! Nadaje subtelny odcień i ukrywa niedoskonałości. Pięknie rozświetla i wygładza skórę. Gorąco polecam, chociaż od jakiegoś czasu jest ulepszona o składnik spf i miało to ulepszyć bazę, ale ja uważam, że ją troszkę pogorszyło, ale mimo wszystko jest super. Jedynym minusem jest cena. :-)
Firma NANOSOFT nie odpowiada za treści wprowadzane przez użytkowników witryny Dolce.pl.
Firma NANOSOFT zastrzega sobie prawo do niepublikowania treści wprowadzanych przez użytkowników wg własnych kryteriów.
Zapytaj sprzedawcę o produkt