Astor Perfect Stay Gel Color
Lakier do paznokci 12ml 022 Pacific Gem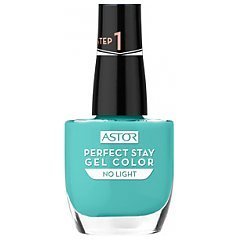 Adres e-mail podany przy korzystaniu z funkcji powiadamiania będzie użyty wyłącznie do wysłania powiadomienia. Po wysyłce powiadomienia lub upływie terminu wspomniany adres e-mail zostanie usunięty z bazy.
Jeśli produkt jest wciąż produkowany i będzie dostępny, powróci do oferty Dolce.pl. Witryna Dolce.pl jest aktualizowana codziennie.
Astor Perfect Stay Gel Color - to wyjątkowa formuła zaprezentowana przez firmę Astor. W dwóch krokach możesz osiągnąć trójwymiarowy efekt połyskujących paznokci nawet w normalnym świetle! Krok pierwszy to kolor, a kolejny to transparentna warstwa uaktywniająca świetlisty efekt Astor Perfect Stay Gel Top Coat. Lakier utrzymuje się do 14 dni, nie wymaga stosowania podkładu oraz łatwo się usuwa. Ponadto formuła z witaminą E wzmacnia paznokcie. Osiągnięcie połyskujących paznokci w szerokiej palecie modnych odcieni dawno nie było tak proste.
Paleta kolorów
Prezentowane odcienie prosimy traktować orientacyjnie, ponieważ mogą występować rozbieżności ze względu na ustawienia parametrów ekranu/wyświetlacza oraz złożoną strukturę kosmetyków.
Termin wysyłki liczony jest od chwili potwierdzenia zamówienia w przypadku zamówień pobraniowych. W przypadku zamówień opłacanych przelewem lub kartą, termin realizacji liczony jest od zaksięgowania wpłaty. W wyjątkowych sytuacjach czas realizacji może ulec wydłużeniu.
Napisz pierwszą opinię!
Wygraj bon Dolce.pl o wartości 100 zł!

Co miesiąc losowanie kolejnej nagrody. Zapoznaj się z warunkami!

Baw się i pisz, co myślisz!

Opinie pomagają konsumentom, ułatwiając wybór dobrego produktu. Ważne są też opinie krytyczne, bo dzięki którym unikniemy kupna bubla.
Firma NANOSOFT nie odpowiada za treści wprowadzane przez użytkowników witryny Dolce.pl.
Firma NANOSOFT zastrzega sobie prawo do niepublikowania treści wprowadzanych przez użytkowników wg własnych kryteriów.
Sprawdź datę produkcji
Jak znaleźć numer serii na produktach Astor?
Kosmetyki produkowane lub dystrybuowane przez Procter&Gamble:
Numery serii 4 do 10 cyfr (np. 2065, 7275), zwykle są nadrukowane lub tłoczone na spodzie opakowania.
Nie należy wpisywać REF NO (np. 82405546), jest to numer katalogowy.
Zapytaj sprzedawcę o produkt