Organic Shop Herbal Of Provence Bath Foam
Płyn do kąpieli 500ml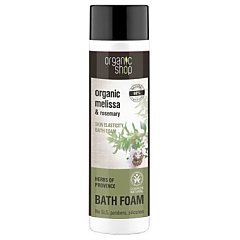 Adres e-mail podany przy korzystaniu z funkcji powiadamiania będzie użyty wyłącznie do wysłania powiadomienia. Po wysyłce powiadomienia lub upływie terminu wspomniany adres e-mail zostanie usunięty z bazy.
Jeśli produkt jest wciąż produkowany i będzie dostępny, powróci do oferty Dolce.pl. Witryna Dolce.pl jest aktualizowana codziennie.
Organic Shop Herbal Of Provence Bath Foam - organiczny płyn do kąpieli przeznaczony do codziennej pielęgnacji. Stworzony na bazie ekstraktu z melisy i organicznego olejku rozmarynu.. Posiada właściwości nawilżające, odżywiające oraz zmiękczające. Wpływa na uczucie harmonii.
Termin wysyłki liczony jest od chwili potwierdzenia zamówienia w przypadku zamówień pobraniowych. W przypadku zamówień opłacanych przelewem lub kartą, termin realizacji liczony jest od zaksięgowania wpłaty. W wyjątkowych sytuacjach czas realizacji może ulec wydłużeniu.
Opinie o Organic Shop Herbal Of Provence Bath Foam
Opinie o innych produktach linii Body

Aliszka
Piękny zapach dla suchej skóry, takiej jak moja, fantastyczny. Jest miękka i gładka. Super, polecam :)
Firma NANOSOFT nie odpowiada za treści wprowadzane przez użytkowników witryny Dolce.pl.
Firma NANOSOFT zastrzega sobie prawo do niepublikowania treści wprowadzanych przez użytkowników wg własnych kryteriów.
Zapytaj sprzedawcę o produkt