Collistar Special Perfect Body Intensive Anti-Stretchmarks Cream
Balsam do ciała przeciwko rozstępom 400ml
Speciale Corpo Perfetto Crema Intensiva Antismagliature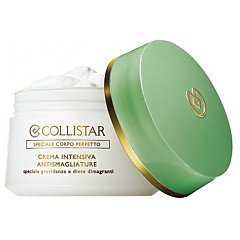 Cena Dolce.pl 148 zł
Dostępny. Wysyłka w ciągu 1 - 2 dni roboczych *
Collistar Special Perfect Body Intensive Anti-Stretchmarks Cream / Crema Intensiva Antismagliature - krem przeciwko rozstępom- intensywnie działający krem do ciała, zwalcza istniejące rozstępy i zapobiega powstawaniu nowych. Wspiera proces regeneracji komórek skóry, nawilża, doskonale odżywia i wygładza.
Termin wysyłki liczony jest od chwili potwierdzenia zamówienia w przypadku zamówień pobraniowych. W przypadku zamówień opłacanych przelewem lub kartą, termin realizacji liczony jest od zaksięgowania wpłaty. W wyjątkowych sytuacjach czas realizacji może ulec wydłużeniu.
Opinie o Collistar Special Perfect Body Intensive Anti-Stretchmarks Cream
Opinie o innych produktach linii Special Perfect Body

Yv
Po pierwsze to nie "piling"... Krem wchłania się bardzo szybko, efekt działania natychmiastowy - skóra czerwienieje po chwili i jest to naturalnym efektem działania rozgrzewającego. Krem tworzy na skórze aksamitną powłokę, rewelacyjny na noc. Nie polecam na dzień gdyż może się nieco "łuszczyć" jeśli w niektórych miejscach nałożymy go za dużo. Bardzo wydajny.

Agnieszka
To najlepszy w świecie piling do ciała, nie miałam lepszego.
Firma NANOSOFT nie odpowiada za treści wprowadzane przez użytkowników witryny Dolce.pl.
Firma NANOSOFT zastrzega sobie prawo do niepublikowania treści wprowadzanych przez użytkowników wg własnych kryteriów.
Sprawdź datę produkcji
Jak znaleźć numer serii na produktach Collistar?
Kosmetyki produkowane lub dystrybuowane przez Collistar:
4 cyfrowe numery serii (np. 2752, 2040), zwykle są wytłoczone lub nadrukowane na spodzie opakowania.
Zapytaj sprzedawcę o produkt