CHANEL Le Vernis
Lakier do paznokci 13ml 562 Coralium
Nail Colour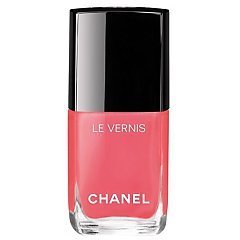 Cena Dolce.pl 102 zł
Dostępny. Wysyłka w ciągu 2 - 8 dni roboczych *
Chanel Le Vernis Nail Colour - lakier do paznokci. Dzięki zawartości bioceramicznych składników daje efekt utwardzający. Rezultat to perfekcyjny kolor i wysoki połysk paznokci.
Paleta kolorów
Prezentowane odcienie prosimy traktować orientacyjnie, ponieważ mogą występować rozbieżności ze względu na ustawienia parametrów ekranu/wyświetlacza oraz złożoną strukturę kosmetyków.
Termin wysyłki liczony jest od chwili potwierdzenia zamówienia w przypadku zamówień pobraniowych. W przypadku zamówień opłacanych przelewem lub kartą, termin realizacji liczony jest od zaksięgowania wpłaty. W wyjątkowych sytuacjach czas realizacji może ulec wydłużeniu.
Opinie o CHANEL Le Vernis
Opinie o innych produktach linii Le Vernis

Ewa
Mam kolor 639, bardzo ciekawy, ciemne bordo, już jakby przechodziło w brąz. Polecam, od kiedy mam, stale maluję paznokcie tym kolorem. Pasuje do wszystkiego.

francesca
Mam kolor 671 - piękna, jasna czerwień. Bardzo dobra jakość. Idealny.

Monika
Posiadam kolor 573. Wart jest każdej wydanej złotówki. Świetne krycie i trwałość.

gomt
Orage to kolor nieba przed burzą - ni to granat, ni szary, ni czarny. Bardzo ciekawy. Dla jaśniejszego, bardziej szarego koloru wystarczy jedna warstwa, przy dwóch kolor zbliżony jest do czerni. Na paznokciach utrzymuje się 5 dni.

COCO-29
Posiadam kolor 455 taki jak czereśnia ciemny bordo. Matowy piękny kolor jeśli chodzi i jakość to 5 dni utrzymuję się idealnie, po lekko się ściera, ale nie odchodzi płatami!!. Stosuję pod lakier bazę firmy Gueralin i żel top na lakier. Wtedy efekt jest super. Błyszczą się pięknie paznokcie. I nie ma szkodliwych składników w lakierze, a to ważne. I ma super pędzelek do malowania.
Firma NANOSOFT nie odpowiada za treści wprowadzane przez użytkowników witryny Dolce.pl.
Firma NANOSOFT zastrzega sobie prawo do niepublikowania treści wprowadzanych przez użytkowników wg własnych kryteriów.
Sprawdź datę produkcji
Jak znaleźć numer serii na produktach CHANEL?
Kosmetyki produkowane lub dystrybuowane przez CHANEL lub Bourjois:
Numery serii 4 cyfrowe (np. 5002) zwykle są wytłoczone na spodzie opakowania.
Numery o formacie 123.456 to numer katalogowy, nie należy ich wpisywać.
Zapytaj sprzedawcę o produkt